Massage Therapy Downtown, Toronto
Time for you to Sit Back and Relax and Unwind with our Massage Therapy Downtown
Welcome to Blue Sky Health Center! Our team of highly skilled massage therapists is trained in the ancient art of massage therapy and are dedicated to providing our clients with the highest level of service possible. We believe that massage therapy is an incredibly beneficial form of treatment that can help to relieve pain, ease anxiety, and promote overall relaxation.
If you're feeling stressed out and are in need of a relaxing break, we invite you to come and experience our world-class massage services. You'll feel refreshed and rejuvenated one of our relaxing full-body massages. We hope to see you soon!
For Massage Therapy Downtown, Chinatown, Dundas contact us as we provide a wide range of massage therapy treatments including deep tissue massage, oil massage, couple massage and many others.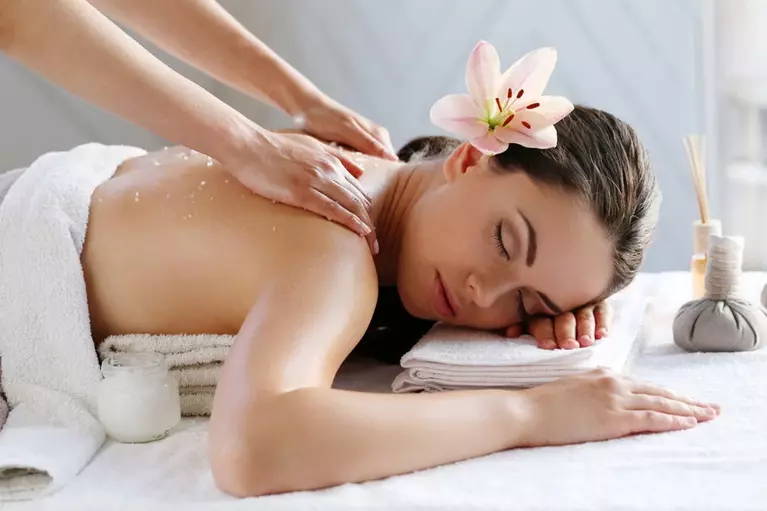 The Immediate Benefits of Massage Therapy
Massage has long been appreciated by humans, and numerous craftsmen have practiced the art for millennia. The benefits of massage have even been acknowledged by modern medicine, including:
OUR PROMISE
Pain relief: through pressure on the nerves and muscles, endorphins and serotonin are released, soothing any pain.
Improving recovery: if you're always active, a massage will enhance blood circulation to your muscles and aid in recovery.
Anxiety relief: Anxiety and worry are natural feelings. Everyone experiences them. You will be able to forget your worries as your body releases natural chemicals and you bask in the pleasure of a full body massage.
Improving sleep: When you are at ease and relaxed, it is easier to fall asleep.
For a personalized massage experience, all massage sessions are tailored to each patient's needs. With our clinic, you'll not only experience the latest techniques, but you'll also receive the ultimate customer experience at Massage Dundas, Downtown Toronto.
Long-Term Benefits of Massage Therapy with Our RMTs in Chinatown, Downtown Toronto
Massage therapy in Downtown provides many benefits – both short-term and long-term. The long-term benefits of massage therapy have been observed to be that people who have received the treatment are less likely to suffer from depression and its symptoms, their blood pressure is better, and they are less stressed.
We tailor your treatment to meet your individual needs. We are passionate about what we do and strive to provide our patients with the highest quality care. We only employ qualified massage therapists (RMT's). Thus, if you are looking for RMT Dundas, Downtown Toronto, look no further than Blue Sky Health Center.
he pain or stress in your life should not prevent you from enjoying your life. The consequences of not taking care of your body include:
A serious health problem
Mobility restrictions​
A lack of enjoyment of life with your loved ones​
Work-related negative effects​
In some cases, disability may result​
With a pain-relieving massage, you can feel at ease
Massage well deserved
A better explanation as to why you would benefit from massage therapy is given below!
You can reduce and remove pain with it, as well as lower muscular tension if you have it.
Both acute and chronic conditions can be treated with it​.
In addition to treating carpal tunnel syndrome and insomnia, massage therapy can also help treat tendinitis and multiple sclerosis.​
Various preventative care programs can include it, such as sports training and injury prevention.​
As a result of everything mentioned above, it should be difficult for you to justify not considering massage therapy! Questions? Or even questions about Massage Spa Downtown? Don't worry, just give us a call! We'd love to hear from you!
Whats Can I Expect From My First Visit?
You will be asked to complete a confidential health history questionnaire during your first visit. If you are taking any medications or have any medical conditions, make your Massage Therapist aware of them. After listening to your concerns, the Massage Therapist will assess your individual needs and locate any factors that could contribute to the source of the problem. After that, the Massage Therapist will develop a treatment plan that will help you return to your normal, everyday activities with no discomfort.
What is The Duration of A Massage?
Massages typically last between 30 minutes and an hour. A safe, unique, and personalized massage will be provided to you after a five to ten minute dressing time. Dressing times and assessments may vary.
Do I Need to Do Anything After a Massage?
After your treatment, it is recommended that you take 30 minutes of quiet time to get to a peaceful state of mind and body. To further enhance the benefits of your massage session, it is recommended that you take an Epsom salt bath to help soothe and calm your muscles. Any stiffness and aches you might feel the next day will be relieved by an Epsom salt bath. Stay hydrated by drinking water.