Couple Massage Toronto
Enhance Your Relationship with the Healing Power of Touch with Couple Massage Downtown Toronto
Massage is well known for its numerous health benefits, and the same holds true when you're with a partner. The couple is simultaneously massaged by their own masseuse during a couples massage. The added benefit of a shared experience is that you both benefit from a healing and rejuvenating treatment. A couple massage Chinatown can benefit a relationship in a number of ways.
You'll discover deeper relaxation, reduce soft tissue knots, trigger points, and joint stiffness with a couple's best massage Downtown.
Couples massages involve each partner receiving a full body massage simultaneously from their own masseuse. With a shared experience, you are both able to enjoy a healing and rejuvenating treatment. There are several ways in which a couples massage can benefit a relationship as well.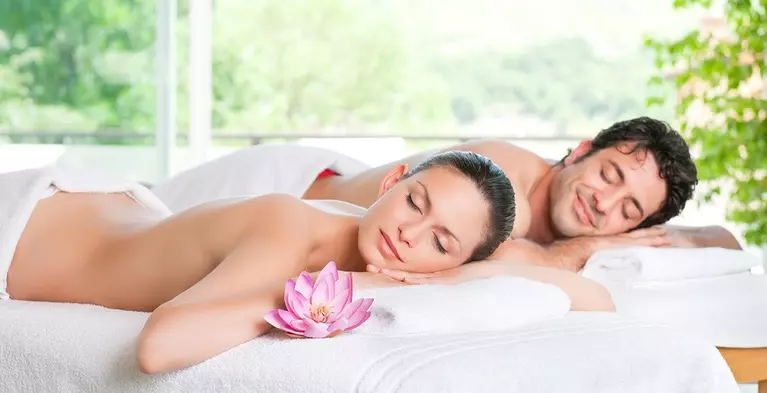 As a Bonding Experience
You are creating a space in the day where your partner can escape from the obligations that create the need for the massage in the first place by scheduling a couples massage. It may create a sense of exploration and adventure, and of creating new memories together, when couples massage is a new activity. Thus, let's go through the immense benefits couple massage Downtown Toronto can have on your relationship:
To Reset Your Emotions
Both parties can feel distant, or resentful, when conflict in a relationship contributes to accumulated stress. Grasping and kneading away tense muscles may help release trapped emotions, helping to reset both partners' emotional states. It may help you to clarify your emotions, and allow yourself to hear and accept each other.
Inspiring Intimacy
The act of balancing the body's muscles may also set the stage for physical re-connection as a result of a therapeutic massage. The goal of a couple's massage is to heal and disengage from the pressures of everyday life, while simultaneously receiving massages can inspire a sense of safety and closeness. As a result, you will feel looser, allowing you to enjoy an intimate meal, a scenic hike, or any other shared interest that sparks your emotional and physical intimacy.
Why Book Your Couple Massage with us?
Each massage treatment is tailored to address your individual concerns and can be enhanced with massage elevations or other add-on services to boost your therapeutic experience. For couples who can only take out a spa treatment late at night, we also have spa late hours downtown.
There is nothing more romantic than a couple's massage. Book yours now at Massage Spa Baldwin Village, regardless of when Valentine's Day is and make your partner feel loved and special!
What is the point of a couples massage?
The service takes place simultaneously in the same room with two different therapists. A couples massage is a shared experience that can result in a closer relationship between two people. This is the perfect time for couples to talk and catch up as well as to relax and enjoy each other's company.
Is a couples massage awkward?
A couple's massage can be awkward if you make it that way. There is no need to be nervous about couples massage because you will both feel comfortable sharing your space with each other.
What's the difference between a couples massage and a regular massage?
Couple's massages are similar to other massage types except they are performed by two different massage therapists at the same time, on separate tables. Massages are usually performed in a private room on side-by-side massage tables.