Foot Massage Spa Downtown Toronto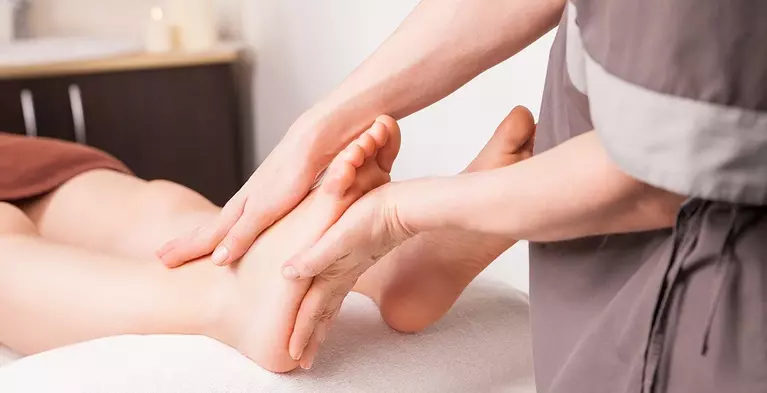 Pamper those tired feet to the fullest with our best Foot Reflexology Downtown
When our feet swell after a long day of standing up and walking around, we all know how relaxing a short foot massage can be. I agree that it's fun, but is it really beneficial to our health, other than making us feel a bit more relaxed and alleviating some of the pain?
You can choose from a variety of massages, each with its own benefits. The techniques of acupressure and aromatherapy improve overall health and energy flow; reflexology improves internal organ function by massaging specific areas of the feet. Thus, for foot reflexology Downtown and Baldwin Village book your appointment right way and give yourself the much needed pampering.
There Isn't A Better Deal In Downtown Toronto and Baldwin Village!
As well as offering a range of benefits, foot massage Toronto is long-lasting. We can be gentle and soothing in some sessions, while in others we can target specific complaints aiming to improve health and function in specific body systems. The whole body can benefit from a foot massage Downtown Toronto, as it can relax, soothe, calm, balance, and boost it!
The massage therapists who work for us are friendly and attentive to the needs of your body. We offer quality massage treatments at Blue Sky Health Center that are relaxing and effective. Our cozy and relaxing spa specializes in foot reflexology, acupuncture, and deep tissue massage.
Why Do We Recommend Foot Reflexology?
In order to bring about healing in corresponding areas of the body, a massage therapist at Blue Sky Health Center will apply pressure to certain reflex points on the foot. Some of the small, intense movements you'll experience during a foot reflexology treatment include kneading the ball of the foot, pulling on the toes, and tracing around the heel.
To customize your wellness experience, we offer a variety of body and foot massage therapies. As well as promoting blood circulation, massage therapy helps to eliminate toxins from the body and to relieve muscular tension, thus relieving mental and physical stress. To help improve range of motion and mobility, our trained professionals blend ancient Chinese and modern techniques. Our Foot Spa Downtown, Toronto is very popular and we promise you the comfort and relaxation that you are looking for.
Discover a quiet moment of complete relaxation at Blue Sky Health Center by taking life one step at a time.
Our reflexology chairs are large, comfortable, and made of high quality leather, and we start by soaking your feet in hot water with sea salts to increase the flow of blood before drying and wrapping in towels so that your feet stay warm until the massage begins. As a result of our reputation throughout Vancouver for providing authentic foot massage reflexology, our clients come back to us only!
Allow others to enjoy. Relax. Allow others to enjoy. Relax. Enjoy. Relax. De-stress.
What is foot reflexology good for?
Through reflexology, you can alleviate pain, stimulate nerves, improve blood flow, and treat migraines, to name just a few benefits. As well as being effective for treating stress, injuries and improving mood, reflexology may also promote better health and prevent illness when no abnormalities exist.
Are foot spa Dundas good for your feet?
Foot spas are helpful for circulation, muscle relaxation, reducing inflammation, relieving arthritis symptoms, and treating minor injuries like sprains. Many people find relief from aches and pains by using these spas. If you use a foot spa, you'll feel some relief, just like if you used a bath or a hot tub.
Is it good to massage your feet?
Regularly rubbing your feet can be just as beneficial as rubbing your neck, back, and shoulders. The benefits of foot massage include improving circulation, stimulating muscles, reducing tension, and often easing pain. Moreover, you can discover if you have blisters, bunions, corns, or a problem with your toes during the visit.
Does foot reflexology hurt?
Often, reflexology will hurt while treating congested reflex areas, and has nothing to do with foot massages. As you receive several reflexology treatments, you will feel less sore on the corresponding reflexes.