Facial Treatment Downtown: Get a Glowing Skin
To keep your face looking youthful, radiant, and blemish-free, it's crucial to take care of its delicate skin. Regular facials can help achieve this goal and leave you feeling refreshed and rejuvenated. If you're in Downtown area, consider visiting Beauty Centre Downtown for an exceptional facial treatment.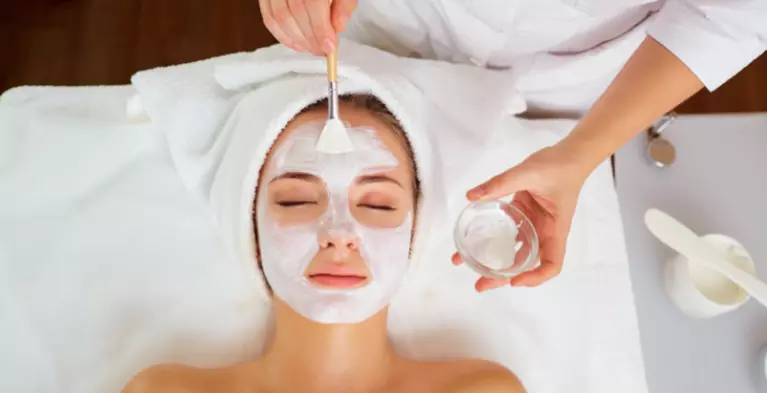 At Blue Sky Health Center, we offer various types of facial treatments to cater to your unique skin needs. We design our Advanced Facial Downtown to target specific skin concerns like fine lines, wrinkles, and uneven skin tone. We also provide Facial Dundas, a popular facial service for those looking for a relaxing and soothing experience.
IPL Rejuvenation Downtown
Photofacials or IPL Rejuvenation Downtown is a non-surgical cosmetic treatment that revitalizes skin and gives a youthful look.
IPL is a laser-like technology that uses intense pulse light. By damaging the melanin (pigment) or blood vessels just below the skin's surface, the light energy stimulates collagen production and reduces wrinkles and fine lines.
We at Blue Sky Health Center are committed to helping you look and feel your best. Our team of highly trained and experienced board-certified cosmetic surgeons and other medical professionals will help you achieve your goals.
IPL (Intense Pulsed Light) reduces redness and age lines by using intense pulses of light to penetrate deeply into the skin. The process takes 30 minutes to complete.
Eyelash Extension Downtown
Get a completely custom lash look designed by our professionally trained stylists! All of our extensions are 100% safe and lush. The curls last for long periods of time thanks to a double-heat-rolling process. Our skilled stylists will assist you in choosing lash extensions that complement your face, lifestyle, and desired look. Make an appointment with Blue Sky Health Center for Eyelash Extension Downtown to receive a full set of lashes or a routine lash fill.
CURRENT FACIAL SPECIALS AT DUNDAS SPA DOWNTOWN
Our Blue Sky Health Center Offers Customized Facials Designed For Your Skincare Needs. You'll go home with amazing results guaranteed! We Only Use The Best, Pharmaceutical Grade Products. Thus for the best Facial Treatment Downtown, visit us and book your appointment right away.
Facial and Laser Skin Care FAQs:
What is a Facial Treatment?
It consists of several different treatments designed to cleanse and hydrate the skin. Most facials begin with exfoliation, which removes dead skin cells from the surface. This helps prevent bacteria growth and pore blockages. After exfoliation, a nutrient wash is recommended to nourish new skin cells and ensure clear pores.
During a facial, the body gets a light massage to boost circulation and lymphatic flow. This helps to eliminate dead cells. Most Downtown facials also moisturize to restore the skin's natural oils lost during cleansing.
How Do Facial Treatments Improve The Health of Your Skin?
Facial treatments can aid in treating acne and provide your skin with a healthy glow, minimizing embarrassing blemishes and breakouts. Advanced facial Downtown can also reduce sun damage and delay the effects of aging, preventing wrinkles and discoloration.
How Often You Should Get a Facial in Downtown Toronto?
Due to the varying complexity and balance of everyone's skin, the exact timing for regular facial treatments may also vary. Dermatologists recommend a time interval of every three to four weeks, with very good reason.
It takes your skin's cells three to four weeks to grow and to exfoliate. To prevent dead skin cells from clogging your pores and to promote healthy and balanced skin, it is important to align your facial treatment routine with this time frame. This ensures that new skin receives ample nourishment and dead skin cells are not left on your face for extended periods.
If you have acne-prone skin, your skincare specialist may suggest undergoing a facial every two weeks until you achieve a healthy balance. Also, the weather may affect the recommended frequency. More frequent facial treatments may be beneficial during hot and humid months, as well as cold and dry months.
Are facials actually good for your face?
A facial is beneficial for your skin as it improves its health. Deep cleansing and exfoliation result in soft, more even skin that shows less signs of aging and is less prone to breakouts.
Which age is best for facial?
Many professionals suggest that getting a facial when one is 14 years old is the best time to start caring for your skin. It is during this period that blackheads, bumps, and acne begin to appear on the face. Some teens begin puberty earlier while others do so later.
How many days does facial last?
After a facial, the skin becomes deeply hydrated and the circulation increases, which results in a healthy glow that typically lasts for 48 to 72 hours.
How many times do I need to do IPL skin rejuvenation?
A session every 3-4 weeks is usually sufficient to see significant changes.
Which is better IPL or Micro-needling?
IPL removes both brown freckles and background pigmentation, making it a more effective treatment for age spots than micro needling. In terms of improving skin texture and increasing collagen production, IPL isn't as effective as laser treatment.
Can IPL be used for skin rejuvenation?
These skin problems can be treated with intense pulsed light (IPL) skin rejuvenation. When compared to other light therapies, especially laser treatments, IPL causes minimal damage to the skin and has a quick recovery period. IPL is a safe and effective way to rejuvenate your skin.
How Long Do Eyelash Extensions Last?
Semi-permanent lashes may last from 6 to 8 weeks. Our recommendation is that you have your lashes filled every two to three weeks if you plan to maintain them. It will keep your eyelashes looking better all the time. The extensions will fall out when your natural lashes do. During your fill appointment, your lash technician will remove any extensions that have grown out and replace them. They will also add extensions to any new growth. You'll avoid any wonky-looking or crisscrossing lashes by doing this.