Facial / Laser Skin Care Downtown Toronto
Despite being the most visible part of the body, the skin on your face is also the most delicate, making it particularly vulnerable to blemishes, discoloration, and aging. Therefore, undergoing regular facial treatments is an important element of a healthy personal care routine which will help you look your best every single day of the year. Thus, visit us at Beauty Centre Baldwin Village and Downtown Toronto to give your face that much needed pampering.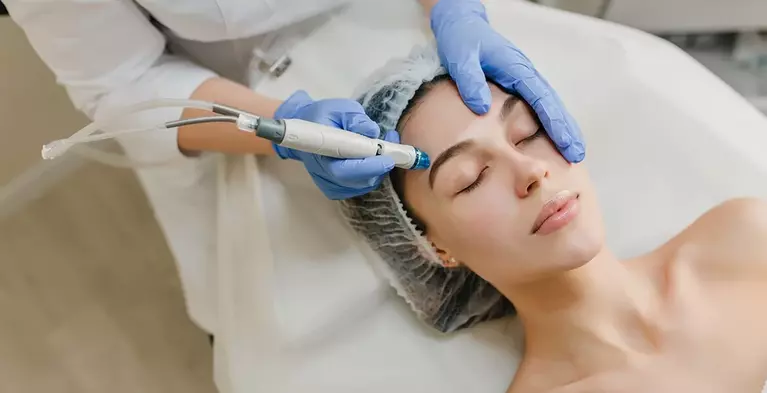 Laser Hair Removal Downtown
Laser hair removal is a medical procedure that uses laser light to target and destroy hair follicles, thereby stopping hair from growing in unwanted places. Laser hair removal works best after a series of treatments, as the laser targets the hair follicles with increasing precision. In the past 10 years, laser hair removal technologies have become increasingly advanced and comfortable, making it an easy and popular choice for those looking for a semi-permanent solution to unwanted hair growth.
Looking for a solution to your unwanted body hair, razor burn, and ingrown hairs? Look no further than Blue Sky Health Center in Downtown! We offer the most advanced, award-winning laser hair removal treatment in Downtown that provides permanent results for both men and women. All our treatments are performed by laser hair removal and skin care experts, using state-of-the-art technology, so you can be sure you're getting the best possible care. Explore our services and experience the difference!
Laser hair removal uses laser energy to destroy hair follicles, giving you permanent results. This treatment is much quicker and more comfortable than alternatives like waxing and shaving, making it ideal for those with excessive hair growth. With just a few treatments, you can eliminate all unwanted hair permanently. If you're looking for a more permanent solution for hair removal than waxing or shaving, laser hair removal might be right for you.
There are plenty of reasons to get laser hair removal treatments, and they're not just limited to certain areas of the body. You can get them done on your face, chin, neck, sideburns, underarms, and bikini area, among others. Some advantages of laser hair removal include:
Treatment is fast and convenient, allowing those wishing to get rid of hair on body's small parts
No more ingrown hair
No more worrying about skin irritation and razor burn
IPL skin rejuvenation Downtown
Known as Photofacials, IPL skin rejuvenation Downtown is a non-invasive cosmetic procedure designed to rejuvenate the skin and produce a youthful appearance.
IPL is a laser-like technology that uses intense pulse light. By damaging the melanin (pigment) or blood vessels just below the skin's surface, the light energy stimulates collagen production and reduces wrinkles and fine lines.
We at Blue Sky Health Center are committed to helping you look and feel your best. Our team of highly trained and experienced board-certified cosmetic surgeons and other medical professionals will help you achieve your goals.
IPL (Intense Pulsed Light) reduces redness and age lines by using intense pulses of light to penetrate deeply into the skin. The process takes 30 minutes to complete.
Eyelash Extension Downtown
Get a completely custom lash look designed by our professionally trained stylists! All of our extensions are 100% safe and lush. The curls last for long periods of time thanks to a double-heat-rolling process. You will work with our experienced stylists to select the lash extensions that best suit your beautiful face, lifestyle, and desired appearance. Schedule an appointment with Blue Sky Health Center today for Eyelash Extension Downtown if you need a full set of lashes or a routine lash fill.
Obtain a free consultation with our doctors and a laser hair removal price by contacting us.
CURRENT FACIAL SPECIALS AT DUNDAS SPA DOWNTOWN TORONTO
Our Blue Sky Health Center Offers Customized Facials Designed For Your Skincare Needs. You'll go home with amazing results…guaranteed! We Only Use The Best, Pharmaceutical Grade Products. Thus for the best Facial Baldwin Village, visit us and book your appointment right away.
Facial and Laser Skin Care FAQs
What is a Facial Treatment?
It consists of several different treatments designed to cleanse and hydrate the skin. In most facial treatments, exfoliation is the first step, to remove dead skin cells from the surface of the skin that can feed bacteria and clog pores. To strengthen newly developing skin cells with vitamins, a nutrient wash is recommended after this to ensure that pores are clear.
During a facial treatment, the body receives a light massage to facilitate circulation and lymphatic flow, which it uses to eliminate dead cells. Last but not least, most facial treatments Downtown contain a moisturizing agent, useful for replenishing the skin's natural oils when they are lost during the cleansing process.
How Do Facial Treatments Improve The Health of Your Skin?
Face treatments can help treat acne and provide your skin with the healthy "glow" it needs to radiate confidence while reducing embarrassing blemishes and breakouts. Additionally, advanced facial Downtown can minimize sun damage and delay the effects of aging, preventing wrinkles from forming, preventing discoloration, and delayed the onset of wrinkles.
How Often You Should Get a Facial in Downtown Toronto?
Due to the varying complexity and balance of everyone's skin, the exact timing for regular facial treatments may also vary. Dermatologists recommend a time interval of every three to four weeks, with very good reason.
It takes your skin's cells three to four weeks to grow and to exfoliate. Therefore, aligning your facial treatments routine with this time frame will prevent dead skin cells from remaining on your face for any length of time so that they can block or clog your pores, as well as ensuring new skin is given ample nourishment to remain healthy and balanced.
In the case of more acne-prone skin, it may be recommended to undergo a facial every two weeks until a healthy balance has been achieved. Also, the weather may affect the recommended frequency. More frequent facial treatments may be beneficial during hot and humid months, as well as cold and dry months.
Are facials actually good for your face?
A facial is beneficial for your skin as it improves its health. Deep cleansing and exfoliation result in soft, more even skin that shows less signs of aging and is less prone to breakouts.
Which age is best for facial?
Many professionals suggest that getting a facial when one is 14 years old is the best time to start caring for your skin. It is during this period that blackheads, bumps, and acne begin to appear on the face. Some teens begin puberty earlier while others do so later.
How many days does facial last?
As the skin is deeply hydrated and circulation increased, the healthy glow immediately following a facial should last typically 48 to 72 hours.
How often does IPL Photofacials need to be done?
For best results, IPL Photofacials should be done every 3-4 weeks.
Is there downtime with IPL Photofacials?
No. Your skin is not damaged by IPL Photofacial, as it works beneath the surface. You may have some redness for 20 to 25 minutes afterward.
How many times do I need to do IPL skin rejuvenation?
A session every 3-4 weeks is usually sufficient to see significant changes.
Which is better IPL or Micro-needling?
With IPL, as well as brown freckles, the background pigmentation is also removed, making it more effective at removing age spots than micro needling. In terms of improving skin texture and increasing collagen production, IPL isn't as effective as laser treatment.
Can IPL be used for skin rejuvenation?
These skin problems can be treated with intense pulsed light (IPL) skin rejuvenation. When compared to other light therapies, especially laser treatments, IPL causes minimal damage to the skin and has a quick recovery period. IPL is a safe and effective way to rejuvenate your skin.
How Long Do Eyelash Extensions Last?
Semi-permanent lashes may last from 6 to 8 weeks. Our recommendation is that you have your lashes filled every two to three weeks if you plan to maintain them. It will keep your eyelashes looking better all the time. The extensions will fall out when your natural lashes do. At your fill appointment, your lash technician will remove any extensions that have grown out and replace them as well as add extensions to any new growth. You'll avoid any wonky-looking or crisscrossing lashes by doing this.
Can I Wear Mascara?
It is strongly recommended that you do not use mascara with your lash extensions. To prevent the bonding agent from dissolving if you choose to apply eye-makeup, use water-based mascara instead of oil-based or impermeable mascara. A water-based make-up remover (or our cleanser) is also recommended because oil-based solutions cause adhesive damage.